Step 1 - Downloading Crossword Weaver
If the download has not already begun, click here to begin downloading.
In a few seconds, a box will appear that looks something like this: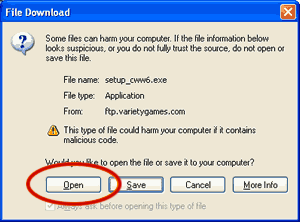 Choose "Open" (or Run). This will save the setup file on your Desktop (if you click "Save" you will need to select Desktop in you "Lookin:" folder).

The download of the program will begin. It should only take a few minutes.
Step 2 - Installing Crossword Weaver on your computer
After downloading Crossword Weaver, installation should begin automatically and the "Welcome" screen should appear. Click "Next" to begin installation.

If it does not appear you can begin installing the program by clicking on the "Crossword Weaver setup.exe" folder on your desktop.

The next step is to select the location where Crossword Weaver will be installed. We recommend you install it in your Program Files folder.
Installation will only take a few seconds.
Select "Finish" to complete the installation process.
Step 3 - Start Crossword Weaver.
Accepting the License Agreement will open Crossword Weaver.

To open Crossword Weaver in the future, simply click on the Crossword Weaver icon on your desktop, or click on the Start button, choose Programs, then Crossword Weaver.
Step 4 - How to buy Crossword Weaver.
You can buy a license to unlock the demo at any time, before, during or after downloading. The license number is an unlocking code that is specific to your name. When you enter your name and license number into the Crossword Weaver demo, it unlocks immediately and lets you use all of its features.

If you upgrade to a new computer, you can move Crossword Weaver to your new computer for free. Your name and license number will also allow you to unlock the program again if you lose it.

Click here for online order form. The online ordering process is completely secure and will give you a license number (unlocking code) immediately.

If you want us to mail you a CD, you can also order one online.
To order by telephone. Call 1-800-229-3939 or outside USA and Canada call 1-801-426-7824 during regular hours.